It was nearly two in the morning. It was hot, but I had been jumping in the salt water shower every half hour or so and that, combined with the oscillating fan on the floor at the foot of the bed, made the heat tolerable.
I lay on the bed, legs sticking to sheets. I had been lying there for several hours, with my tiny laptop on the bed next to me, trying to figure out why the Gili Islands disturbed me so much, trying to put my finger on what about this place made me so uncomfortable. I never came up with a precise answer, which is why I've never written anything about Gili Trawangan.
I tried writing about everything I thought was wrong with the Gilis, but in the end it wasn't the hordes of hippie tourists, the Australians behaving badly, the ridiculously overpriced food and lodging or even the cats — the only thing I'm really allergic to — everywhere on the island, nor was it even all of those things combined that bothered me.
On the face of it Gili Trawangan is quite nice. It's small enough to walk around in a day and is surrounded by crystal clear water with a reef that could, with a bit of conservation effort, be quite remarkable. Sadly, it isn't remarkable[1], but the few moments I did enjoy on Gili Trawangan were all moments when my head was underwater and I could willfully ignore everything on the beach behind me.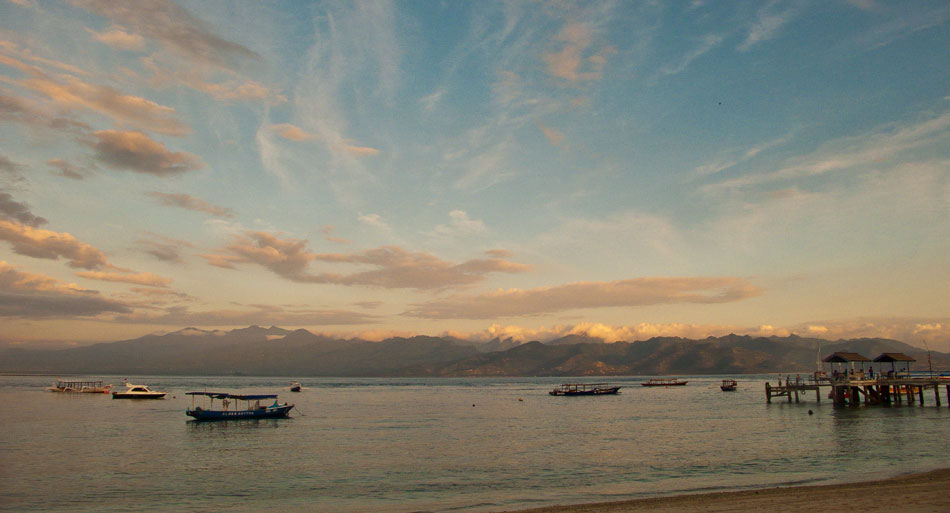 It's taken me months to realize what bothered me, but in the end it was clear. The problem with the Gili Islands is that they don't really exist.
What I mean by that is that the Gilis are not islands you go to and experience, rather they are ideas about what islands ought to be brought to life. The Gili Islands exist as a backdrop on which tourists can act out their fantasies about what "paradise" ought to be.
It's tempting to say there's nothing wrong with that, and maybe there isn't, but it isn't what I look for when I travel. Don't get me wrong, I didn't mind the crowds of the Gilis. The Gilis certainly aren't off the beaten path, but that's also something I've never been too interested in.
What interests me when I travel is the normal. It's been my experience that while the world is huge, it happens in very small, ordinary moments. I'm interested in seeing how things are done in all nooks and crooks of the planet. I enjoy seeing the daily life that happens on every street everywhere around the world. It's been my experience that every street, every park, every square has it's own form of ordinary and that any of it exists at all is extraordinary.
Looking for the ordinary has shaped the way I travel over the years. It's taught me to avoid the guesthouse when possible, to rent apartments where I can and to try to get to know blocks rather than neighborhoods, neighborhoods rather than cities. It's taught me that guidebooks are generally wrong and what you'll remember afterward are usually not things you'd planned to do.
I have no problem with popular tourist destinations, some of them are quite amazing — there's a reason Pompeii and Angkor Wat are popular, because they're amazing places — but they aren't what motivate me to leave home.
I realized months after I'd left the Gilis that I've never really been interested in the quest to find paradise. I own a house in what I consider a paradise. Athens GA is not perfect, but it's pretty near to paradise for me. If I were looking for paradise I wouldn't leave town much[2]
And that in the end is what the Gili Islands have to offer, a collective idea of what paradise looks like. The Gilis are a collection of paradise fantasies culled from decades of hippie travelers, scuba divers, honeymooners, and the rich, lost children of the West.
I eventually realized that the thing that made me uncomfortable, the thing that kept me up on what turned out to be our last night on Gili Trawangan, was the realization that this exists because I am here. I am, however much against my will, now responsible for this. My money has now helped perpetuate this place. I would not want to deny any paradise seeker the opportunity to act out their fantasy on the Gilis, but I prefer to be left out of it. Places like the Gilis can get along just fine without me.
1. Constantly dropping anchors on coral destroys reefs and, despite no shortage of mooring, nearly every boat that I saw pull into Gili Trawangan dropped anchor.↩

2. By the same token if there comes a day when I no longer think Athens is a paradise I will pick up and leave.↩