We went downtown today to the first (so far as I know) Athens Food Cart Festival. Athens is not a huge place. It's not what I'd call a small town either, though the downtown area manages to retain, for now, that feel. That, combined with the U.S. Government's seeming dislike for street vendors in general means that there are, to the best of my knowledge only two or three street vendors in town and none of them have anything like a regular presence anywhere.
It used to be different. There used to at least be JB, who had a sausage cart that could be counted on to be outside the 40 Watt every Friday and Saturday night. Sometimes JB would even follow the crowds to house parties, slinging sausage, beans and "comeback" sauce into the wee hours of the morning. I miss JB. I wrote about my experience with JB for Longshot Magazine a while back.
JB was irreplaceable. He left a vacuum that's never been properly filled. There is a 24 hour diner downtown, but there's something about eating on the street at night. It draws you out, makes you part of the city. It's a shared experience, street food. More communal and more intimate at the same time.
Cheap food, made fresh, in front of you. Served hot, wrapped in newspaper. Street food is the people's food, it removes the mystery of the kitchen, lays the process bare. It's the staple diet of people around the world.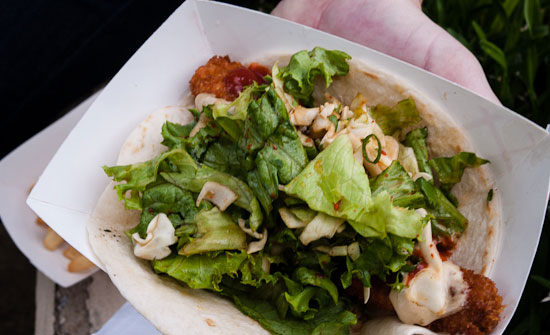 I've had everything from fish and chips to deep fried water beetles from street vendors and it was all good. Yes, even the beetles. Part of the beauty of street food is you can see it all before you commit, so if it looks bad, well, on to the next cart.
For me places often come to be defined in large part by the food I ate. Especially looking back. Sites rarely stand out in my memory, but that delicious mystery meat I ate on the banks of the Mekong? Clear as day. When I think of India now I think of trains and chai. I think of little red clay cups piled beside the tracks, slowly dissolving in an afternoon thundershower. I think of little push carts clattering by, selling samosas and Chaats.
In Bangkok I lived for a month eating almost exclusively skewered meat grilled in a tiny cart with only a handful of glowing charcoal, tended by an old woman who spoke no English, but knew my order after two nights1. Six pork, six beef, spicy sauce, one bag of sticky rice.
In Paris I ate oysters from street vendors. In London fish and chips. In Laos noodle bowls. In Nicaragua empanadas and plantains. At home in Athens there used to be JB. Now there's pretty much nothing.
In Athens this weekend that changed, if only for a meal or two. The deep friend Korean Hot Dog from Streets Café was amazing. As was the sausage from La Fonda. Several of the Atlanta-based trucks were great as well. But none of it will be there tomorrow. In fact it probably won't be there ever again. That's what was sad about the experience, it was great big tease. It was a reminder: you could have this. But you don't.
On some level my love of street food isn't really even about the food. The food is just the catalyst for something more. It's the common tether that brings us all to the same table in the end. There are huge gulfs between cultures, beliefs differ in ways that you're never going to move beyond, but everyone understands food.
If you want to get to know someone, eat with them. It's the universal social language.
And that's what makes a community, people coming together in collective spaces — owned by no one — and setting aside whatever might divide them for long enough to share a table, a taco, a noodle bowl, some rice.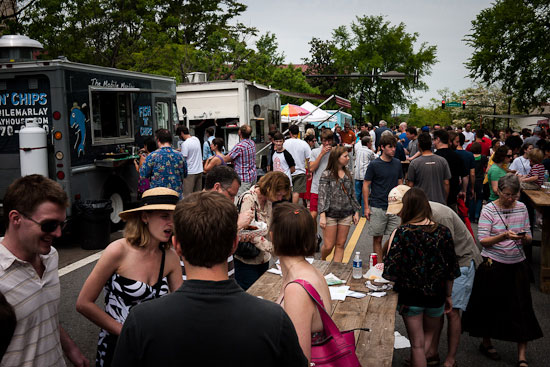 In order for people to come together, in order to establish the kind of commons that form the basis of a healthy community, you need some kind of anchor. You need something to tether the whole thing to the ground. Street food carts and trucks offer that anchor, that basis for bringing people together in a communal space.
That's missing in Athens and it has been ever since JB stopped pulling into the 40 Watt parking lot. Athens has world class restaurants. Athens has world famous music venues and more bars than many cities twice its size. That's all great, but none of it brings us together the way street food could if we let it.
According to a friend who was in Bangkok last week she's still there, plying her trade.↩