We left Lake Superior the historically correct way — heading west, watching the trees thin out until they're gone and the there is only grass and sky.
To be truly historically correct you must be driven out by someone else. This is how the Ojibwe left when they were driven out by the United States, how the Sioux went when they were driven out by the Ojibwe, and how whomever the Sioux drove out probably went as well. These days we have it easy, we get driven out by our own engines.
Over the course of a couple of days driving, the trees disappear and then, rather suddenly, you find yourself surrounded by sky, on the seemingly limitless plains of South Dakota.
The first night out of the Great Lakes region every campground we tried was full. We ended up in a hotel. Driven out by crowds.
After that we spent a couple nights at a South Dakota state park, mainly for the receipt, which we needed to become residents of South Dakota.
Just as Delaware is home to corporations, who come for the tax breaks and whatnot, South Dakota is home for full time RVers who don't want to pay state taxes anymore. All you need to do is sign up for a mailing address (which forwards your mail to you), stay one night in a hotel, RV park or anywhere that give you a receipt with your name on it, and your previous ID. We're now legally residents of South Dakota, though we'll always be Georgians in our hearts.
With our receipt in hand we headed west, stopping off at the Missouri river for a night.
After that we abandoned the back roads we usually stick to and headed down I-90 toward the Badlands and South Dakota's other famous landmark: Wall Drug.
Wall SD is one of those places that no one would have ever stopped in were it not for one woman who gave them a reason to stop there. Ted Hustead bought Wall Drug in 1931. At the time Wall had 231 residents and pretty much nothing to entice anyone else to ever come into Hustead's new drug store. His wife hit on the idea of offering free ice water to travelers headed for the newly opened travesty monument, Mount Rushmore. Back before air conditioning, ice water was no small enticement in these parts and it worked. And if water worked, think how many more people 5¢ coffee will bring, think how many more a giant jackalope will bring and so on until the tourist phenomena of Wall Drug had become something significantly more than a drug store should ever really hope to be.
Today Wall somehow manages to be terribly touristy, yet charming in its quaintness, even if that quaintness is itself a well-crafted enticement. Some things when examined too closely threaten to accidentally unravel the entire universe. Don't dig too deep into these things. Still, the billboards are small, understated and feature photos of food seemingly lifted straight out of the illustrated pages of the 1953 Sears, Roebuck and Company catalog. It's quaint.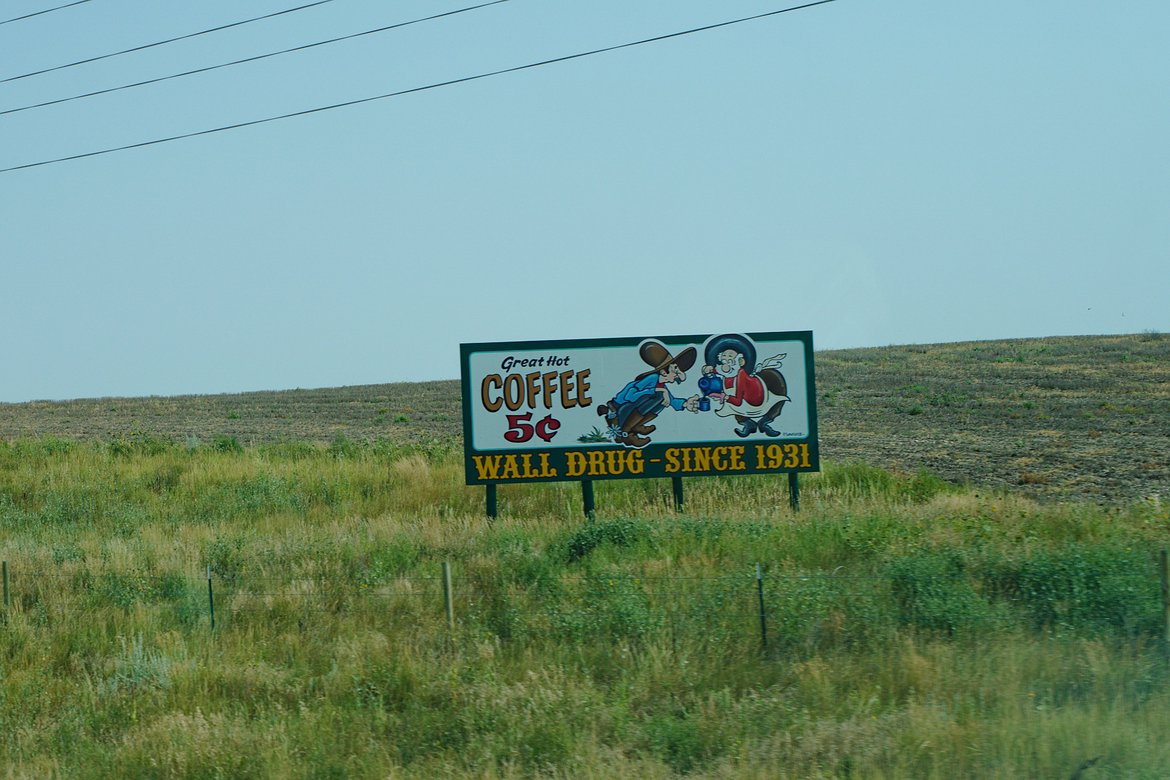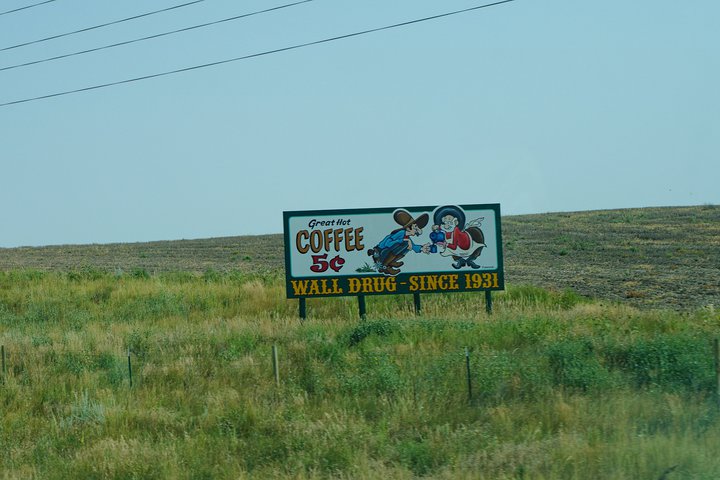 The even stranger part is that inside the display cases of Wall Drug — the cases themselves looking not unlike something that might have been sold in that 1953 catalog — the food really does look just like the pictures. I still can't figure out how they pull that off.
Wall Drug is more or less a full city block of tourist junk and food, and yes there's still free ice water, and the coffee is still 5 cents. The donuts are pretty good too. Bill Bryson sums up Wall Drug perfectly in The Lost Continent: "It's an awful place, one of the world's worst tourist traps, but I loved it and I won't have a word said against it."
You can't pass through these parts without stopping at Wall Drug. Something will entice you in. For me it was the donuts, though later I discovered the gas station sold them too, so I didn't have the wade through Wall Drug just to buy a donut in the morning.
Head due south of Wall and you'll run into the west entrance to Badlands National Park. About a mile before you get to the national park entrance there's an unmarked dirt road with a barbed wire gate and small sign that says "Please Close Gate" and has a small logo of the National Forest Service. Open that gate — close it behind you! — and then you're free to camp just about anywhere inside Buffalo Gap National Grasslands.
There are "campsites" along the dirt road, which threads the edge main ridge that becomes the center of the Badlands. Pretty much anywhere there's enough space to pull off the dirt road and not slide down the cliff there's signs of someone having camped. We grabbed a small pullout about half way down the road that had amazing views of the canyons and ridges that make up the Badlands.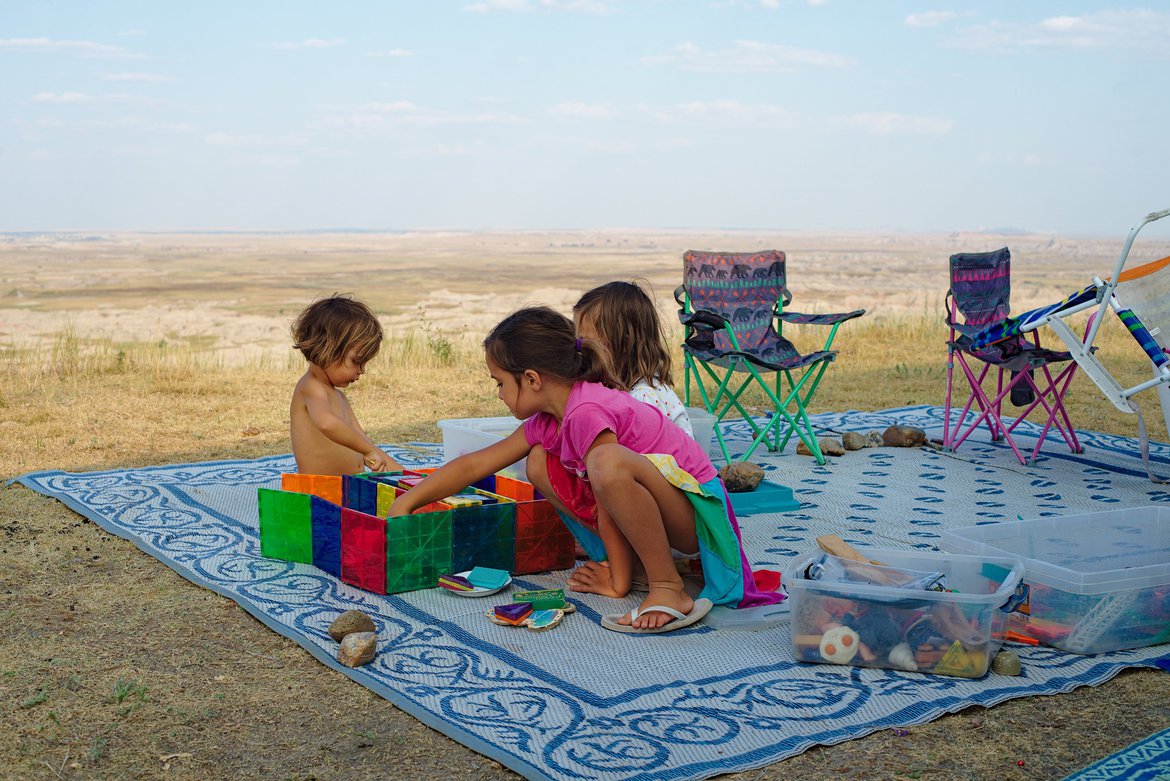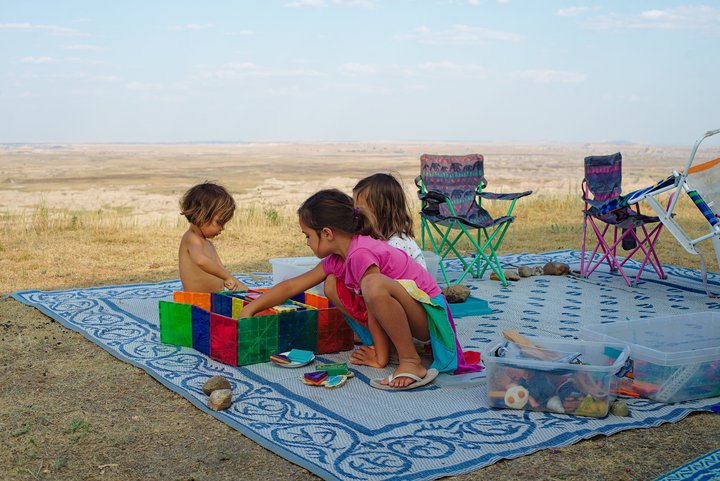 We liked it so much we stayed for two weeks. We'd have stayed even longer if we could have, but two weeks is the limit for federal land. It's probably just as well, otherwise we might be there still.