The Lost Coast
Paddleboarding in the quiet waters of St. George Sound
Driving west on Florida's highway 98 is a little like traveling back in time. It's hard to believe standing amidst the crowds of Panama City Beach, but not ten miles east, once you pass through the actual Panama City, the crowds disappear, along with everything else.
After winding through some rundown warehouse districts at the very eastern edge of the city the highway passes over East Bay and onto the property of Tyndall Air Force Base. The base is a kind of barrier that stops Panama City from advancing eastward. Once you clear the long stretch of pine forest that makes up the eastern portion of the base you come to Mexico Beach, which is in the process of expanding. I'm not sure why, it's the least appealing part of this area. My working theory is that it's cheap. If you can't afford 30A, you buy here maybe.
It's after Mexico Beach that you begin to slip back in time. The road alternates running along the seashore and winding through slash pine forests. It's wilder, and only occasionally interspersed with small towns. This is the part of Florida we've been visiting regularly since 2010.
The region from roughly Port St Joe in the west, to Alligator Point in the east, is known as The Lost Coast. That's mostly a local marketing term, but it has an element of truth to it. Far fewer people come out here. It's too far from any airports and it lacks high end resorts to draw in the tourists. Those who come here like it that way.
Having been coming here for so long, I've written about this area quite a few times so I went back and read some of my older pieces. In All The Pretty Beaches I call this area "a little backwater in time" and it still is, mostly. It's a slice of the world as was before the proliferation of mega-resorts and all-inclusive vacation package extravaganzas.
There's still little more to St. George than a store, a gas station and a couple of seafood trailers offering up fresh shrimp and scallops from nearby Apalachicola. Sure, there are plenty of AirBnBs and condos, and I'd guess that there are fewer full time residents than there were in 2010, but the two motels are still rundown affairs that still look like holdouts from the early 1990s. Nothing on the island feels all that different than it did over a decade ago. Perhaps this place really is lost.
Little things have changed of course. Doug's seafood trailer is no longer there, Doug passed away several years ago now. The grocery store on the island is considerably fancier than it used to be. A Boar's Head Deli has replaced the dried out breaded shrimp under heat lamps. But otherwise the same restaurants still serve up the same food to people that look much the same as they always have.
Prices are through the roof though. We couldn't afford to rent the beach house we used to stay in even if we wanted to. AirBnB changed everything everywhere for the worse. That's okay. These days we head even further away from civilization to the state park at the far end of the island. It's a good thirty minute drive from our campsite to the first signs of the civilization, which is a rarity on the east coast, let alone on the Florida coast.
We embrace the remoteness. When we come out here we load up on food before hand so we don't really have to leave the park. For about ten days we didn't do much other than wander the maritime forests of oak and pine and swim and play in the sea.
The only problem was the purple flag.
Coming from California, I find Florida's use of warming flags downright hilarious. I have never seen any beach conditions in the Gulf that would warrant more than a yellow flag in California. If that. But here the red flag is almost constant. I've already said my piece about our safety-third philosophy, I won't repeat it here. Suffice to say that the color of flag never has much bearing on what we do at the beach here. But a purple flag is different.
We did not have those in California. The purple flag is for "stinging marine life". I talked to a ranger about it. Portuguese man o' war had been washing up the week before. He said it had been a few days since they'd had any reports. But then, you never know. Portugese Man-o-war are pretty obvious in clear water, they stick up above the surface and are bright purple. The problem is their tentacles can be alarming long and often proceed them in the water, depending on current.
I decided — wait for it — that is wasn't worth the risk. When we were here at Christmas the kids and I stumbled on a little trail that led down to the leeward side of the island, which faces St. George Island sound. This became our hang out spot. Everyone else headed to the windward beaches, leaving the sound side to us. We spent whole days out there without seeing another soul.
I got out the paddle boards, which none of us are good enough to use on the ocean and figured we could have some fun on the calmer waters of the sound. We'd pack lunch and head down to the water early most days. There was even a little picnic table I could work at while the kids played. I'd be hard pressed to think of a better place to spend our time. Not coincidentally, the campground on Lake Superior where we spend our summers has virtually the same setup, picnic table by the water with a little beach. We really don't need much to call a place paradise.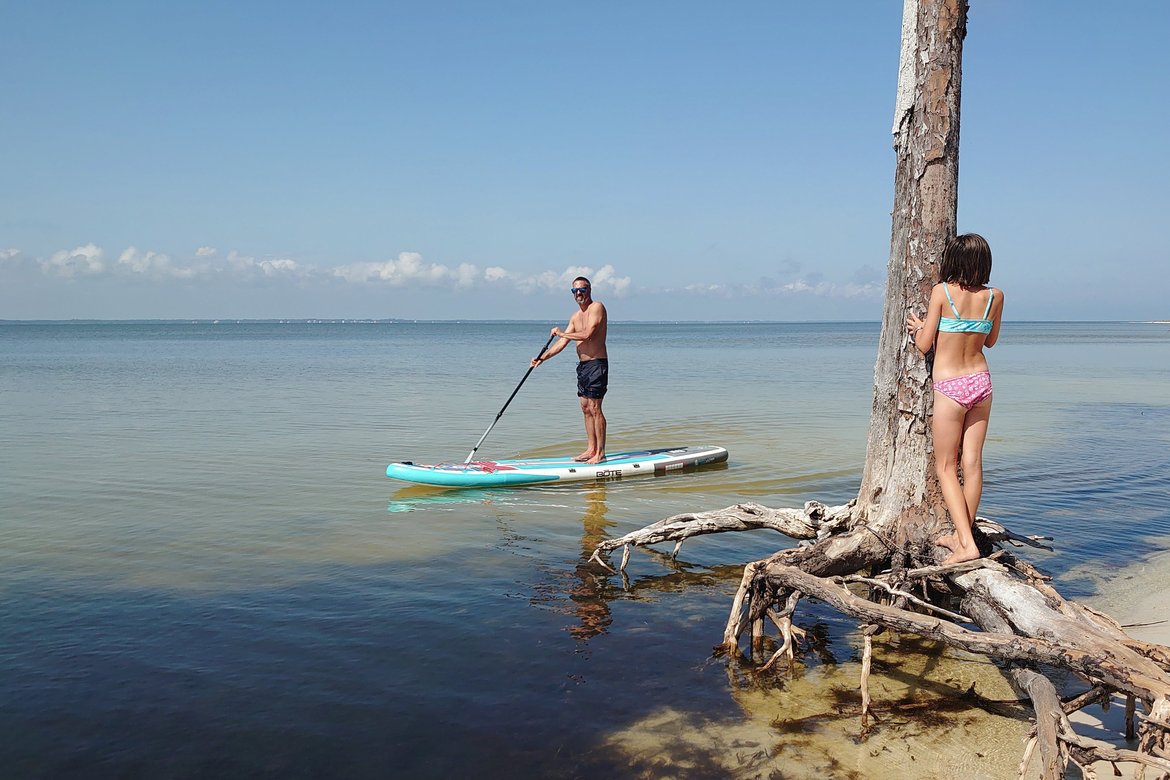 One day I took the paddle board on a longer trip, paddling for a few hours up the coastline. I am in the process of editing a movie about that, which I'll post soon, but it was interesting. I made me realize that longer paddles, perhaps even going overnight would definitely be something I think I'd enjoy. Florida is too hot these days for tent camping to be much fun, but I'm looking into some trips when we get up north. I'd be curious to hear from anyone who's done an overnight paddleboard trip.
As happens when you live this way, we reached the day when it was time to head on. We had some business to take care of back in Pensacola. I mentioned this to the camphost one day and she kind of wrinkled her nose and paused for a moment before saying, "oh… it's very crowded up that way". I smiled because I knew exactly what she meant. You get used to life at the pace of the Lost Coast and everything else starts to seem like… too much. We decided Pensacola could wait and managed to book a few more days out here and then some in Grayton, delaying our return to civilization a bit longer.