Build
When in doubt, build shelves.
When in doubt, build shelves. Building things is an essential part of life. Shelves are easy and satisfying to build. They're useful too. Everyone needs more shelf space. Everywhere I've ever lived I built some shelves or bookcase or some sort of flat surface on which to put thing. When you're done with a shelf your life is inevitably neater and more organized and better in some small way.
Ivan Illich writes in Tools for Convivality that "people need… the freedom to make things among which they can live, or give shape to them according to their own tastes, and to put them to use in caring for and about others."
Maybe that seems like too much weight to put on something as simple as shelves, but I think it's important to have an active hand in shaping the world that surrounds you. It gives that world more meaning. Shelves are an easy place to start shaping. Get a single sturdy board, a couple angle brackets, and you're on your way. You can get fancier, if that's your taste, and search out how to do a french cleat. Either way you have given shape to your things yourself.
I've been shelf building my whole life. When I don't have anything else to do, I build shelves. Or at least paint them. I used to repaint my bookshelves whenever I moved because after a move you never quite know what to do in your new space. The answer is to build shelves. I also tidy up when I'm trying to think, which inevitably makes me think, hmm, I should build a shelf to hold this stuff I am picking up.
I know this contradicts the image of the traveler sitting in a hammock, relaxing all the time. I mean, I try to get in the hammock as much as possible, but this summer I've built quite a few shelves too. Shelves for books, shelves in the bathroom, shelves in the closet. Then I branched out and built a new towel rack. I still have a few more shelves planned before we hit the road again.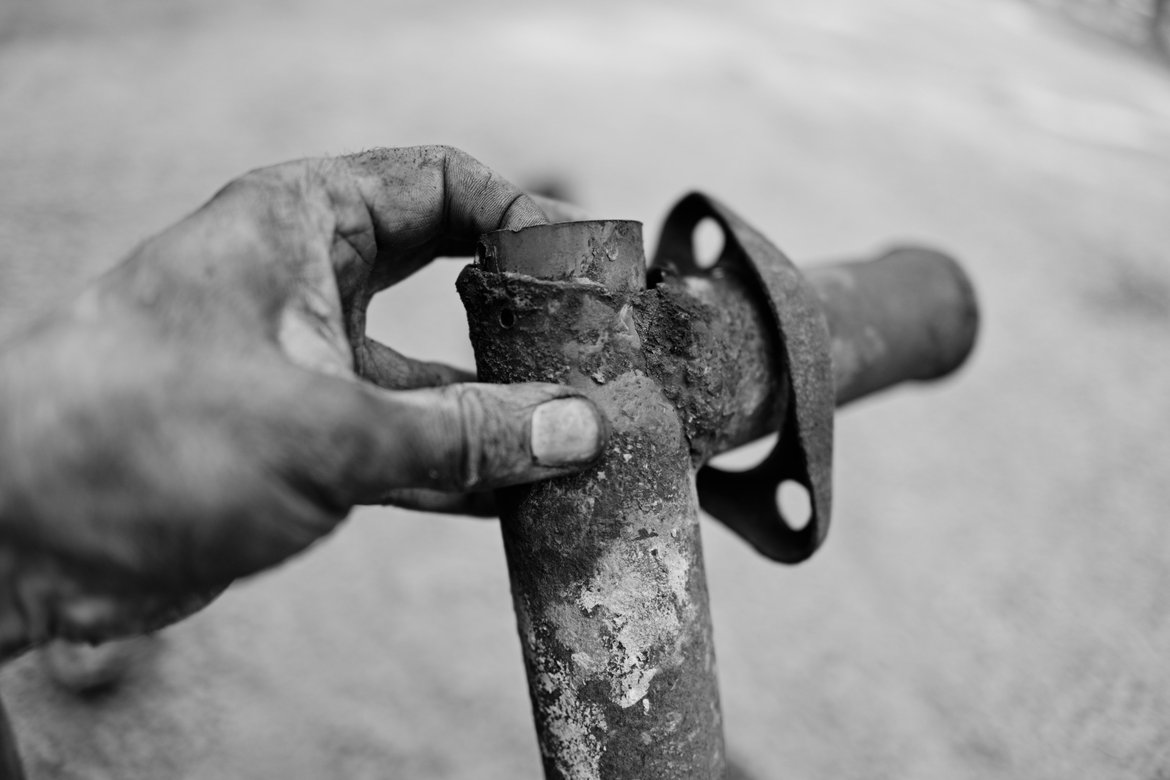 I've been building shelves in part because I can't work on the engine. I pulled the tailpipe out of the bus—all 28 feet of it. I it cut up into manageable pieces and sent off to Eau Claire where a machine shop is building us a new one. Slowly. That pretty much means I can't work on the engine. Well, I can't start it, which makes it hard to work on it and know the results.
We stacked the summer up with activities for the kids. Well. For us anyway. We're not used to being in one place for so long so we maybe went a little overboard. There were baseball games, juijitsu and wrestling practice, sailing camp, theater camp, and what feels like an inordinate number of other activities. The kids have had fun though.
We've managed to do some exploring too. We made a day trip to Little Girl's Point, which is one of the more popular agate hunting beaches in the area. Not being a rockhound myself, I usually just lounge on the beach. Give me a blank sheet of paper in a beautiful place and I will be occupied for hours. I'm getting fancy in my old age though. These days, in addition to a notebook, I've started bringing a stove to make coffee on. Because why not? Fresh cowboy coffee at the beach is something everyone should treat themselves to every now and then. Bonus points if you can find a place to hang a hammock.
The girls turned 11 in July, though this year, thanks to a family visit just before their birthday, they managed to drag the celebration out into something like a birthday week. On the actual day there was, of course, waffle cake.
Quite a few people have reached out to see how the wildfire smoke was up here. Most of the time it really hasn't been that bad. There's been a general haze that I don't recall from last year, but mostly it's been okay, not nearly as bad here as I've seen elsewhere. That said, there were a couple of days where the sun looked like this at 11 AM and the world was preternaturally dark.
To balance it out, there have also been days where it's so clear it seems like an easy swim over to Ashland.
The bad air didn't affect the cherries at least. The great lakes area is, for some reason, home to the best cherries I've ever had. Around here it's mostly red cherries, which are delicious, but if you ever make it over to the UP, keep an eye out for the golden cherries. We had some back in 2018 and the kids still talk about them, they're that good. After reading Ralph Moody's Little Britches books, which involve some cherry picking, the kids really wanted to try their hand so we found a nearby farm.
They didn't get to use stilts, which is what the children in the books do, but I believe they came home with 12 pounds in all — a very impressive haul. We gave away a few pounds, but I'd say we ate at least seven pounds of cherries in two days.
That's sort of thing summer does to you up here. It's so short you have to cram a lot into it. On the one hand there's an element of gluttony to it, everything grows so fast and is gone before you know it that you have to cram seven pounds of cherries down in two days. It doesn't even seem excessive. But on the other hand you appreciate it more because it is so fleeting. This is a land where winter is always either here, or just around the corner. Any time you don't need a jacket and skis to get outside is reason enough to celebrate.