Renaissance Fair
Spending some time in the ever-present past.
One of the things I find most peculiar about our current pop culture worldview is the utter disregard for the past. The past is a far away thing that is almost always a-thing-you-are-so-lucky-you-don't-have-to-live-in.
Step outside that increasingly tunneled vision the media presents us though, and you find that most people love the past. They love visiting it, they love learning about it, and most of all they love pretending to be in it.
What better way to understand other people in other times than to put on the clothes, use the tools, and see where you end up?
We're no different. The kids love history. Travel would be pretty dull if you didn't like digging into the history of the places you're going. We've enjoyed all sorts of re-enactment festivals, working 19th century farms, historic forts, and more. Our most recent foray was something less strictly educational and more oddball fun — The Gulf Coast Renaissance Fair, Pirate Festival, Wild West Roundup, and Historical Festival.
I have never been to a Renaissance Fair before, but I've heard some stories. This one was pretty laid back compared to some accounts I've heard. There were plenty of costumes, but there were also plenty of us not in character. Or in totally different characters, like the girls, who dressed in Greek Chitons. Ancient Greece wasn't on the bill, but the very first person we saw inside the festival took one look at the kids and said, "are those Chitons?" Clearly these were our people.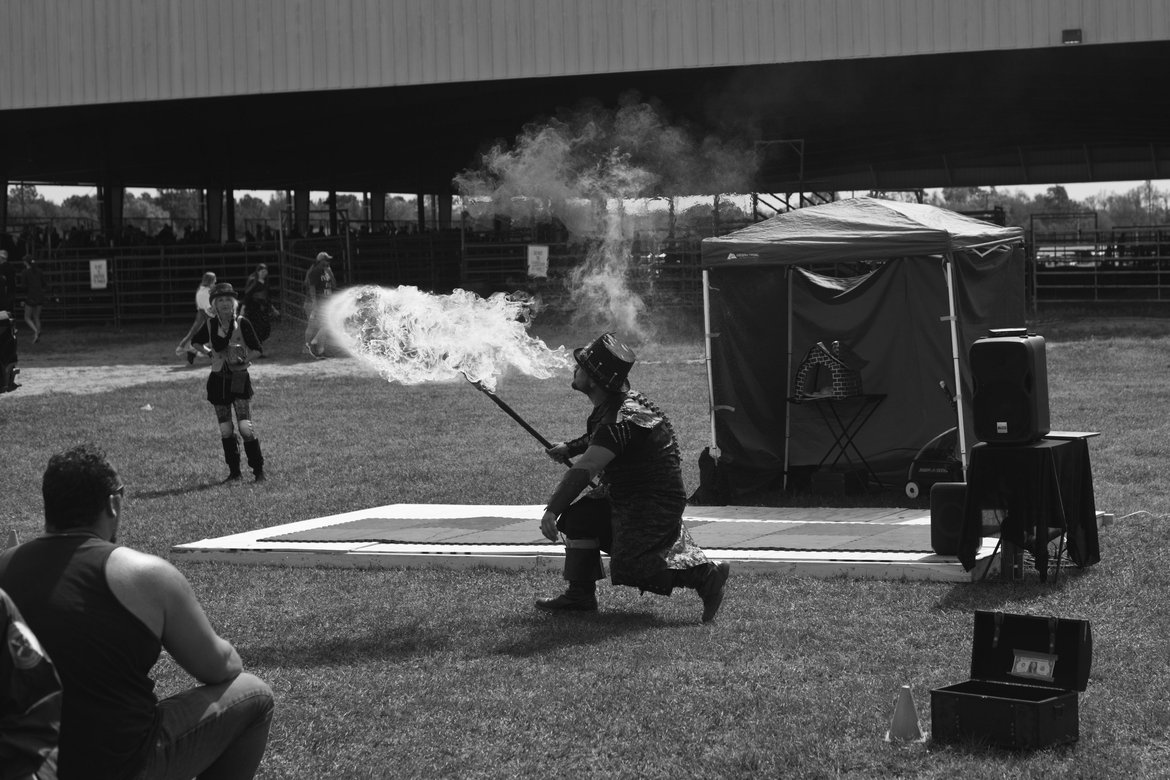 The festival was true to its name. There was a section for Wild West enthusiasts, a section for pirates, a section for all things roughly late Medieval to Renaissance, and plenty of random elements as well, like fire eaters and a woman laying on a bed of nails.
As anyone who's ever been to Medieval Times knows (I have not, but I assume), the big draw for kids is always going to be the jousting. Huge war horses done up in armor, knights in full metal armor as well, riding at each other with actual jousts — who doesn't love that?
The answers is, everyone loves that. Pro tip: head the stands early if you want a seat. We did not, and had to content ourselves with some standing room in what was, I think, the cattle pen when the rodeo is in town. The jousting turned out to be slow getting started, with overly long intros to the knights that we couldn't hear because we were behind the speakers.
The girls lost interest so Corrinne took them over to do some archery. Even I was contemplating heading elsewhere, but Elliott was not to be dissuaded. Eventually the real action got underway though and it did prove worth the wait.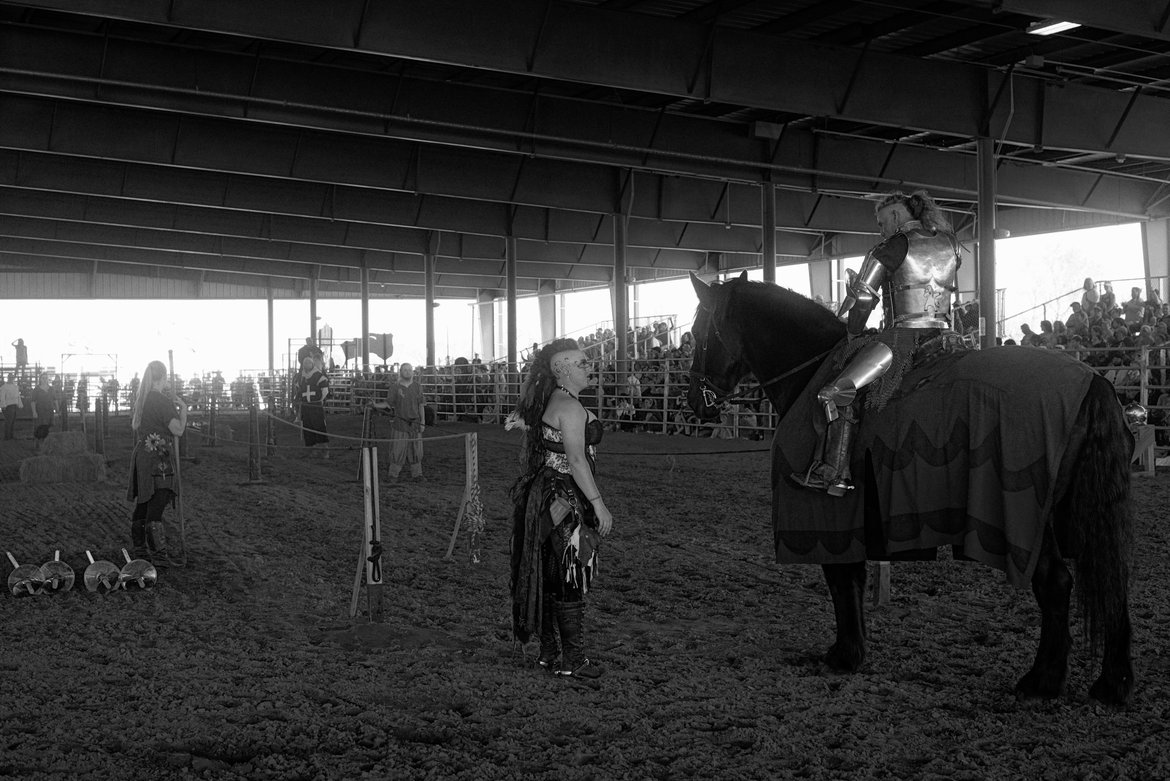 It doesn't look like much in the photos. In fact it looks like they're missing each other, but they aren't. It was wood ramming metal . It took I believe seven passes before one knight unseated the other.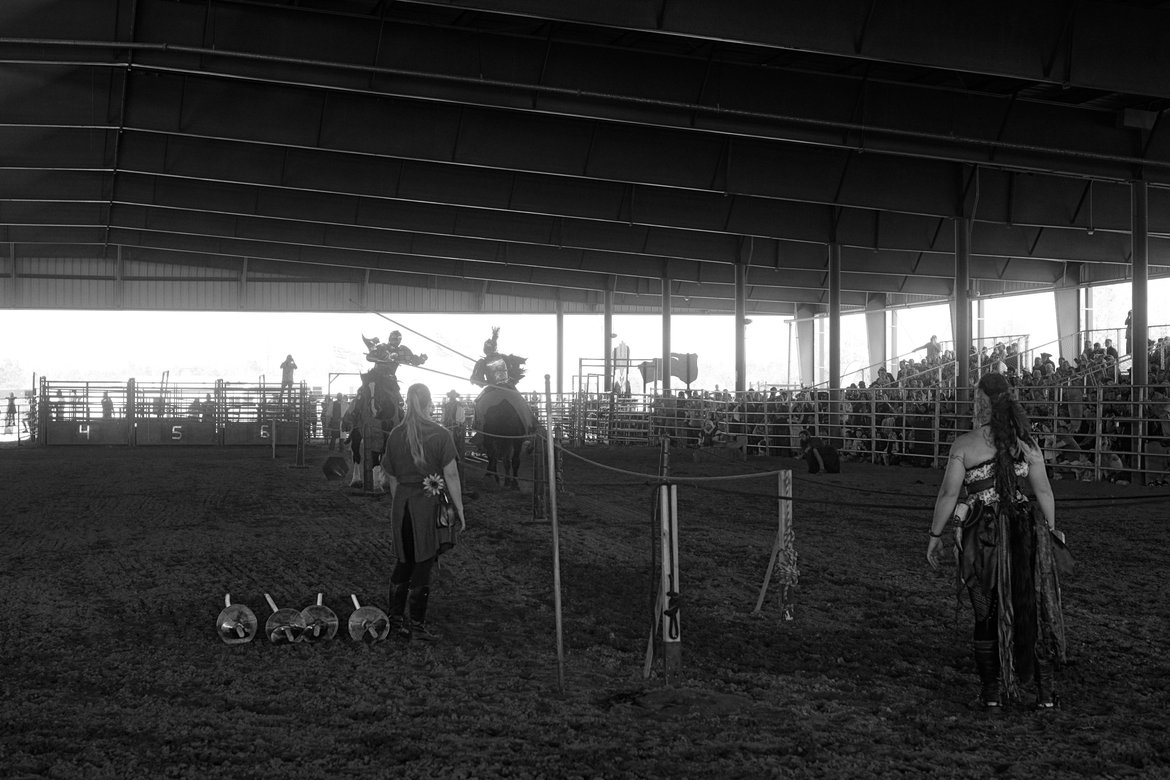 When that was over we wandered off to try our hand at archery. Anything hands-on is always the favorite thing with our kids. Arrows were flying. A few even hit the bullseye.
We ate a packed lunch with some overpriced lemonade in the shade and then the kids decided to break into their savings accounts to buy bows and arrows and a crossbow before we called it a day. We're now the most heavily armed campers in Big Lagoon. Well, most visibly armed anyway. This is Florida after all.